Welcome back to Throwback Thursday. Maggie's topic last week was so well received that a few people had to write multiple posts. Nice job Maggie. It's my turn this week. I've been thinking of my beginning memories of cooking. If you want to join in, it's easy:
Write your own post sharing your memories and leave a pingback to this post in the comments.
You can use the photo above in your post to make it easier to find.
Tag it with #TBTMemory or #IRememberWhen.
If you do not wish to write your own post, feel free to tell your story in the comments below.
This week's prompt is: Cooking Skills
I'd like you to remember the first things you cooked, or attempted to cook. It could have been at home, at school, or when you were out on your own. Everyone has cooked something for themselves. Some manage to burn water when they boil it. Others take to cooking skills right away.
You might consider some of these points and questions when you write.
At what age did you start cooking? From an early age did you avoid cooking at all costs, or did you enjoy learning to create delicious dishes?  Did you cook for yourself, or the family? Were you the sous chef to a parent or older sibling? Did you begin with breakfasts, lunches, dinners, or desserts?
Did you cook for, or with friends?  Were you a master at making a grilled cheese sandwich? Could you barbeque with the best of them? As you made more and more dishes, did you stick with a certain cuisine? Are you a recipe follower, or do you just add things that seem to go together?
Can you remember a catastrophic cooking experience? Have you ever made something awful that others pretended to enjoy? What is your best or favorite dish? Did you ever taking cooking lessons? How many dishes do you regularly rotate in your dinner menus?
My post follows:
********************************************************
I started cooking at age 9 or 10. It was mostly desserts at first.  I learned to use mixes for cakes, cookies, and pancakes. It was fun to be in the kitchen. Clean-up was not so much fun. I learned to experiment with mixes to make them better. I would try to add ingredients to make the food tastier. I was always looking for the next amazing food discovery. Most times, I was successful with what I added. Not always though. 
I was in middle school when I started making grilled cheese sandwiches. I could have eaten them every day. Whenever my friends and I got together, I was at the frying pan making my grilled cheese. I would often add bacon or tomatoes to my sandwiches. It has been my "thing" to add ingredients to tried and true dishes.  
While visiting my dear friend, she taught me about the delicacy known as fried bologna. I hadn't eaten bologna in ages. I assumed nothing could possibly make it tasty. I was wrong. She cut a slice in the round bologna, seared it in the frying pan, and added shredded cheddar cheese. It was delightful. It was then that whenever the three of us could get together we would cook for each other. I learned how to make tacos, taquitos, spaghetti sauce, and numerous snacks.
We had middle school home economics together. We had to make a gym bag and a skirt before we could start the cooking lessons. We mainly made cookies in that class. It was a girls only class. It was fun making things from scratch. I learned a great deal about measurements and precisely following a recipe. I started my first recipe box in that class.
I took Home Ec. in high school too. It was one of my favorite classes. My friends and I were together again. In this class we learned about not just cooking, but how to budget a food allowance, how to set a table, how to make nutritious meals etc. I had no idea that cooking involved anything more than just tossing ingredients together. I spent much of high school baking cookies for the VFW then for my brother. I checked out cooking books from the library and expanded my repertoire a great deal.
When I got married, at 18, I was so happy to be able to cook what I wanted, when I wanted. That's not actually the whole truth. We were very strapped for cash. So, I had to try and be creative with very little funds. I finally realized why my mom made casseroles so often. It was a great way to stretch ground beef. There was very little repetition in our meals. I didn't have the time or energy to make new dishes.
Then when my kids came along, I started making healthier foods. Once they were on solid food, I made sure they had nutritious foods, not from a jar. Over the years I've learned to make more meals, but I don't consider myself a chef by any means. In lean years we had foods that could be stretched when the money ran out before the month did. In later years, I tried to make some more adventurous foods.
I grew up making "clean out the refrigerator soup." I would go looking in the fridge to see if anything was on the verge of needing to be tossed. If the ingredients might go together they were tossed into a soup pot. I'd add some spices and some bread. Viola, a fast, cheap meal. 
I am OK BBQing with coals, but I draw the line at the propane BBQ. I like to prep everything and then hand it off to someone who likes to stand in the smoke. It is fun to be creative with more than just hot dogs and burgers on the grill. Thrift stores were a go-to for years to look for recipe books. I've had tons of BBQ recipe books. They were re-thrifted in the great purging of 2020.
When working, I frequently made brownies for social events at school. When pressed for time, I would make a quality boxed mix and add my own goodies to the mix. No one was able to tell the difference from my altered boxed mix or my made from scratch recipe. I typically made brownies early in the morning before school. I am an early bird and to me, there is nothing like warm brownies.
One year, for a special birthday dinner, I decided to make a prime rib. The cut of meat had to be preordered and it was not cheap by any means. I followed the directions exactly and it was marvelous. I made Yorkshire Pudding to go along with the meal. It was the most decadent meal I have ever made. Nowadays, I keep things simple. I am doing more meatless meals for health reasons. I am eating more fresh fruits and vegetables every day. I try not to bake because I have no will power. I did make brownies for Z3s birthday. I ate two and the rest will leave my house immediately.
On my list of things, I really want to do, when I feel safe to go out among the vaccinated, is to take cooking classes. Now that I have the time and the desire, I just need the safety factor.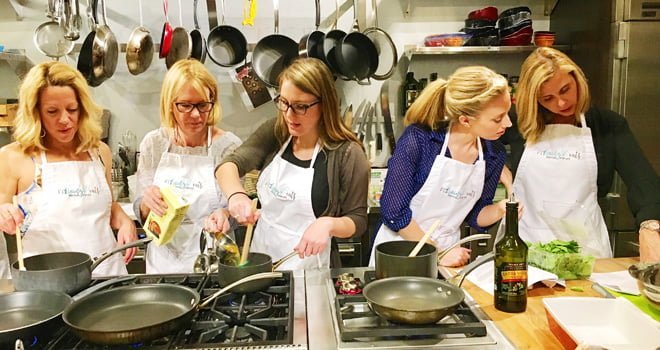 Linda is our host for JusJoJan. Di provided today's prompt word looking.