It's Maggie's turn to host our Throwback Thursday Memory Blog Hop. She asks us about our toys and pastimes. I'll be back next Thursday. It's easy and fun to join in. We are enjoying reading the blogs of those that choose to participate. Feel free to choose what works best for you.
Write your own post sharing your memories and leave a pingback to this post in the comments.
You can use the photo above in your post to make it easier to find.
Tag it with #TBTMemory or #IRememberWhen.
If you do not wish to write your own post, feel free to tell your story in the comments below.
Consider some of these questions when you write:
Did you have a lot of toys? What was your favorite? Were your toys seemingly gender-specific? Did you make toys out of household objects or things you found? Were you required to share your toys with siblings? Was there a toy you longed for but never owned? Did you ever save your own money to buy a special toy? Do you still have any of the toys from your childhood? If you did not have a lot of toys, what were your favorite pastimes that served as playtime? Have you or would you ever, purchase a vintage toy or a replica of a toy you adored? Include pictures if you have them!
_ _ __ _ _ _ _ _ _ _ _
I did not have a lot of toys growing up, but I didn't think much about it either. Most of the kids I knew were in pretty much the same boat. I was more aware of not having the stylish clothes others had.   My birthday gifts were summer clothes. My Hanukkah/Christmas gifts were winter clothes. An of course before school started I always needed school clothes. Functionality was more important to my mom than style. 
I had dolls that I loved. I too wanted a Chatty Cathy. I got a used one from a friend that moved on to a newer doll. When  I was older, I had a couple of Barbie dolls and a Ken of course. I made clothes for them often. I made furniture for them out of household items.  I was never attached so much that I would spend money for them on my own.
I had a few stuffed animals that were very important to me when I was a little kid. I wore them out. When they had been washed too many times and lost too many body parts they disappeared from my room.  I had a few dolls that I loved too much too. Their face and hair were fairly thrashed by the time they went bye bye.   
One of things I do remember getting fairly often were paper dolls. As I was the only girl, I never had to share them. I loved cutting them out. I enjoyed making my own paper clothes for them too. I learned quickly that I needed to add the fold tabs to my creations, or they didn't work. I remember the paper dolls included in magazines too. They were so pretty.  When paper dolls started having punch out clothes, I was not as interested. 
I am sure there were toys I wanted, but never got. Right now, I can't think of anything in particular. I had a friend who collected those fancy dolls that you don't play with. That made no sense to me.   
I played  "school" at home for the majority of the time when I was alone. I would line up dolls and stuffed animals to be my students. I offered them gold stars when they were good. It was easy to make my "students" happy when I taught the lessons. They never argued or refused to do their homework.  I had the typical  toy doctor's kit, toy cash register, and toy musical instruments. None of them kept my attention as much as playing school.   
My younger brother and I played marbles a lot. I collected them for many years. We had cap guns, lawn darts (ouch), a croque set, and a tether ball encased in cement in a tire. To be honest, all of those things were at one time or anther used as playful warfare.  We often "battled" each other. When around my brothers, I was a tomboy to the max.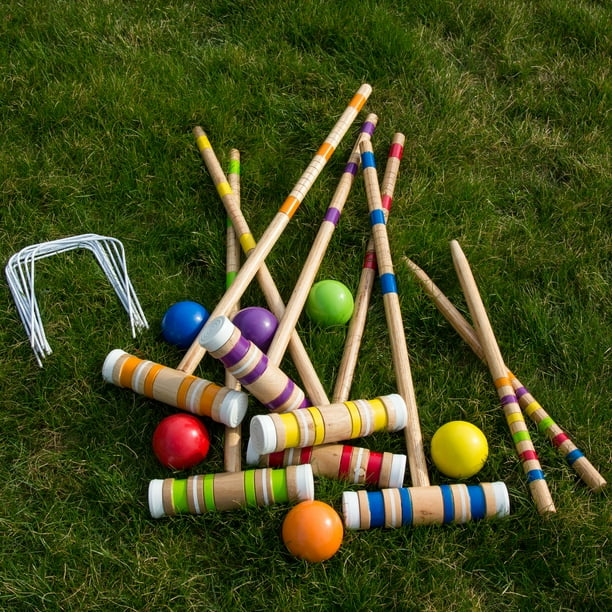 I know that when my kids came along I wanted them to have tons of toys. I made them stuffed animals and most of their toys when they were little. It was fun to me. There was no internet way back then, but there were magazines that taught you how to create things. I was a pro at checking out books from the library and letting my creativity go wild. I would look all year for toys on sale so that when a holiday came along I could give them fun toys.
A fond memory about toy shopping popped up. When I was in my early 20's a store about half an hour away had a huge toy sale once a year. I would have their dad watch them so I could sneak out to the sale. I was able to save 50% or more on coveted items. I would take the gifts to my mom's house to hide them. Once the word got out about the sale it was harder to get what you wanted because the crowds were crazy. I had the patience to fight the crowds way back then.
I have never sought out a childhood toy. I can't think of anything that meant that much to me. Maybe I am not as sentimental as I like to believe. I do have sentimental thoughts about toys I gave my daughters. They are fast approaching 50. (Yikes) I was recently looking at a picture of my grandchildren in 2007 holding a stuffed monkey I gave my younger daughter when she was a little girl. I don't know if she still has it or not. Jessica, the monkey, wore out her clothes and I bought her some baby pajamas to wear.