One Liner Wednesday is the work of  Linda Hill. For all the rules click here                  ===> Linda G. Hill
Be sure to read all the comments and see how others handled their one line.
I had a variety of possibilities for this and then tonight I had to change my mind.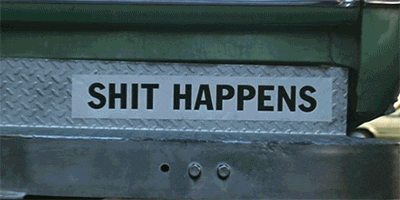 SHIT HAPPENS.
So tonight my spouse did me a favor and took my car to get gas for me. He was going to drop off the bills at the post office and I asked if he could gas up my car so I didn't have to do it before my doc appointment. After getting gas while on his way to the post office a guy in a moving truck rear ended him. He is OK thankfully. My new car has damage to the bumper and probably shouldn't be driven. He waited almost an hour for the sheriff to come and make a report.
I am grateful I didn't get rid of my old car yet. I don't know how long my new one will be in the shop. 😦